Ground Breaking Partnership!
Baden Sports and the Basketball Super League Join Forces to Elevate the Game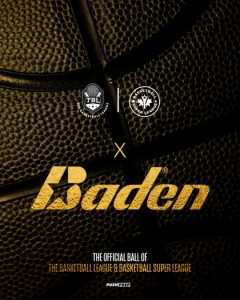 Kent, WA – Baden Sports, a leading innovator in sports equipment and The Basketball League (TBL), a premier professional basketball league, along with the Basketball Super League (BSL), an International  basketball league bringing excitement to professional competition, are thrilled to announce a dynamic partnership that hopes to grow the basketball community while also inspiring a new generation of athletes to go play.
This collaboration brings together two top brands in the world of basketball, with Baden Sports providing its technology and expertise to enhance the player and fan experience within TBL. Both organizations share a deep commitment to the growth and development of basketball at all levels, and this partnership exemplifies their dedication to advancing the sport.
Key highlights of the partnership include:
1. Official Basketball Supplier: Baden Sports will serve as the official basketball of TBL and BSL, creating custom, top-of-the-line basketballs for all league games and events. These specially designed basketballs will offer Baden's superior performance and durability, ensuring that players can perform at their best.
2. Community Engagement: Both organizations are committed to giving back to the basketball community. Baden Sports and TBL/BSL will partner together on activities, youth programs, and community events aimed at promoting basketball participation and development across the United States and Canada.
3. Fan Experience: Fans can expect an elevated experience both in arenas and through digital platforms. This partnership will introduce fan engagement initiatives that will make attending TBL and BSL games and following the league online more exciting and interactive.
"This partnership is a slam dunk for Baden! We're thrilled to be the official ball of TBL and BSL. We believe this opportunity to live out our mission to inspire play in all we do." Said Chad Lindstrom, Sr. Marketing Director at Baden. "We love Evelyn and David's passion for the game and commitment to excellence. We can't wait to see what the future holds for this league."
"I am thrilled about our partnership with Baden, as it opens up exciting opportunities for the growth and development of TBL. This collaboration marks a significant step forward in our journey to deliver a top-notch basketball experience to fans, players, and communities alike." – Evelyn Magley, CEO of The Basketball League (TBL)
The partnership between Baden Sports and The Basketball League and the Basketball Super League is a significant step forward for the sport of basketball. Together, they aim to raise the bar for player performance, fan engagement, and community involvement.
About Baden Sports:
Baden Sports is a 3rd Generation family-owned company based out of Kent, Washington – just south of Seattle. Founded 44 years ago, Baden has a rich history of quality and innovation in the sporting goods industry, which includes introducing the Women's Basketball in 1983. Today, Baden Sports is recognized as a leading innovator in sports equipment, serving athletes, coaches, and sports enthusiasts worldwide as they aim to create products athletes love, inspiring play in all they do.
About The Basketball League (TBL):
The Basketball League (TBL) is dedicated to providing world-class professional basketball entertainment while offering players educational opportunities and fostering community engagement. We also create opportunities for local ownership and economic impact.
For media inquiries, please contact:
Jennifer Magley
317-517-3488
For more information about Baden Sports, visit www.badensports.com.
For more information about The Basketball League (TBL), visit https://basketballsuperleague.com/
Follow us on social media:
– Baden Sports:
@BadenSports and @BadenHoops
– The Basketball League (TBL):
Facebook:  @thebasketballsuperleague
Instagram:  @basketballsuperleague
Twitter:  bsl_tbl